Personally Invested
ACS first opened our doors in 1977 and has maintained the same high standard of ethics and ownership ever since. Our personal investment into your HVAC needs is a guarantee that you'll never be "lost in the system." We strive for flexibility, understanding and ease to ensure overall satisfaction from our clients.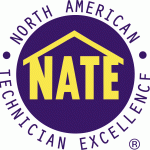 Let's consider the benefits of a homeowner using a contractor who employs certified technicians. Ask yourself – is it important that the technician working on your heater or air conditioner:
Knowledgeable in heating and cooling technologies and systems

Has licensed documentation of his/her knowledge

Is proficient in diagnostics and repair

Conducts repairs to manufacturer's standards

Provides quality parts and efficiency
*If your answer is "no" to any of the above specifications, please exit this web page. We will not lower our standards to help you.
Certified Technicians
A certified technician means you are confident that you're receiving the best experience for your hard earned money. NATE certified technicians are proficient in heating and cooling. Certification does not ensure that a technician is more advanced than an individual who lacks certification however anyone is capable of claiming knowledge, experience and qualification. The key difference accompanied by a NATE certified technician is that the technician has been tested, approved and certified by a knowledgeable, impartial third party. North American Technician Excellence or NATE is the nation's largest non-profit certification organization for heating, ventilation, air conditioning and refrigeration technicians. The U.S. Department of Energy endorses NATE.